True North
Brook Trout at Libby Camps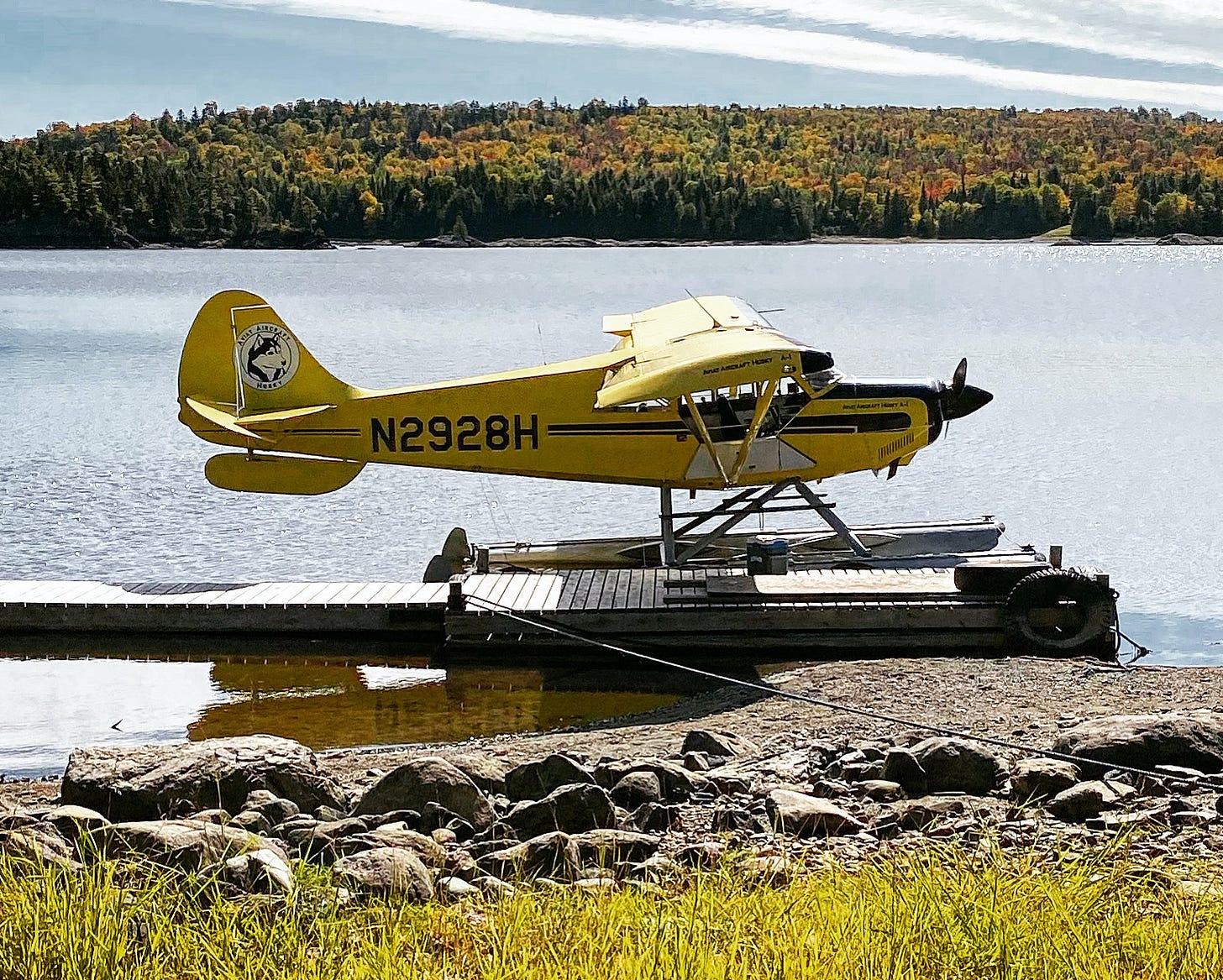 ---
When was the last time you drove down an 18-mile dirt road? If you had, I'm sure you'd remember it. To get to Libby Camps, in the Maine North Woods, you have to drive about four hours north of Portland—past the Mid Coast, past Mt. Katahdin, past most places you've been in Maine (unless you're from Caribou). Finally, you turn off the highway onto a smaller road the goes along a bluff. Then you drive through the town of Oxbow, pop. 35, and the pavement ends. Now, you're on dirt the rest of the way. After a good long time, you reach a point that projects into beautiful Millinocket Lake. You have arrived at Libby Camps.
It's been run by the same family since 1890. The main lodge is powered by a generator (until 9pm, or so), and separate log cabins, where you sleep, are heated by fire stoves, illuminated by kerosene lamps and simply furnished. You go to bed early, because watching the sun burn the fog off the lake at 6am is a wonderful thing to see. There's also an ice-house where they've cut enough blocks of ice from the lake to last the summer. You'll find one of these blocks in the Yeti outside your cabin. It's quite a sight.
---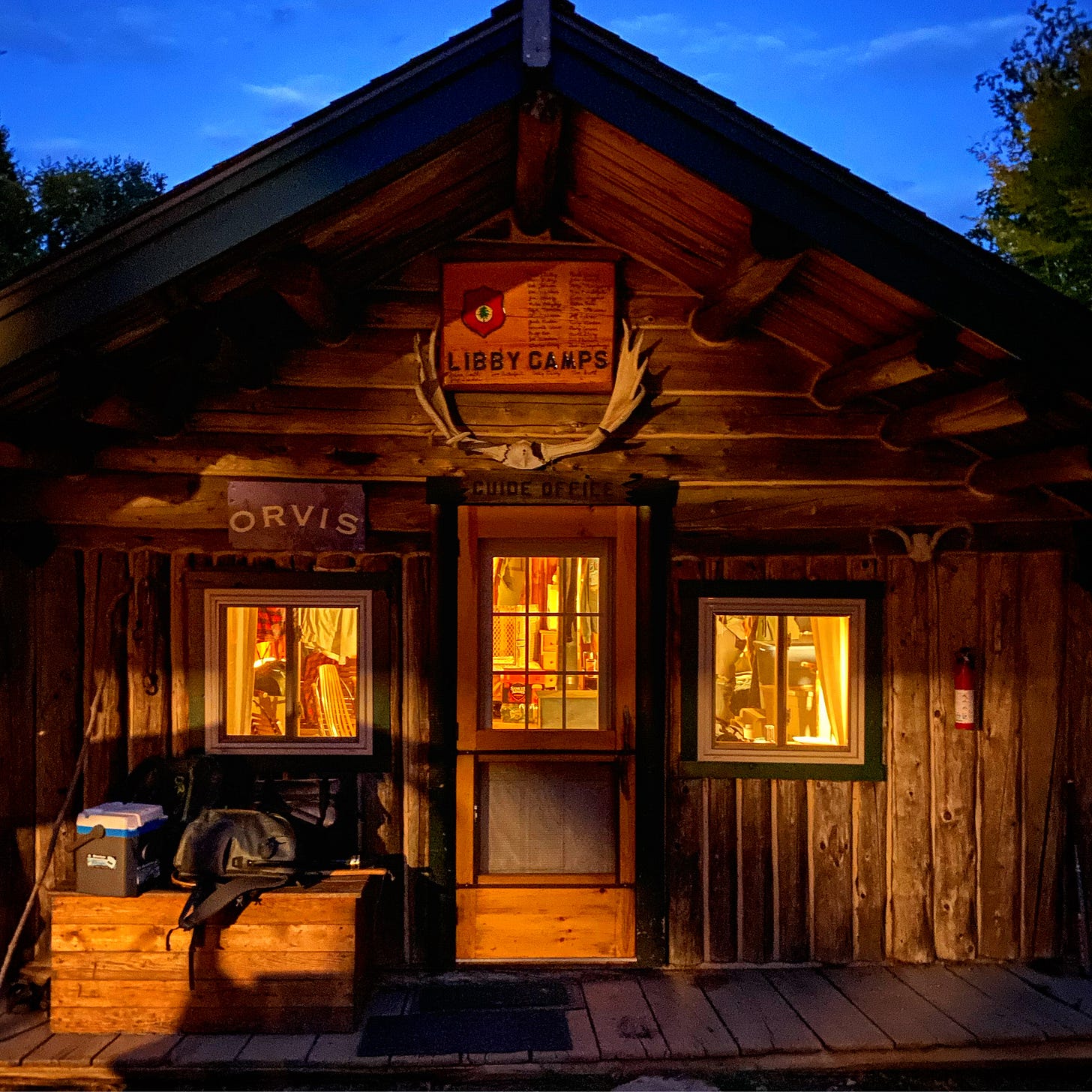 ---
There are many things to do here, starting with brook trout fishing. But also grouse hunting, and countless other animals you can point a shotgun at. This is an isolated place, with an immense sky of stars every night. It's not a place with phone reception, and not a place with much Wifi (none in the cabins), so it's not a place to work remotely (or record podcasts!). That's alright, it's good to disconnect. You can get to even more distant locations on a ride in one of the Libby's float planes. These land on remote ponds and near rivers where trout will be rising.
This is an Orvis-endorsed camp. You fish with certified Maine guides, a specific distinction in the state. Many have worked here for a decade or more, and they are true experts on outdoor life and excellent companions. Most fishing is done out of 20' Old Town canoes that they've stashed near their favorite ponds.
If you're deciding to go, you might consider June, when there are more hatches and more rising trout. June, however, has the notorious black flies, which you will encounter if you hike into the ponds. I first went there seven years ago, and wrote about it way back then for A Continuous Lean. I left a few days ago, and the leaves were changing (it happened early this year), and the color was fantastic. I love brook trout, I think they're one of the most beautiful fish. We were on sinking lines and streamers, which is not everybody's favorite way of fishing. The water was low—it's been one of the driest summers in memory—and, honestly, the fishing was slow.
But Libby Camps, like all good lodges, is about a more complete experience. And it's really a special place. It's also a place where there's plenty to do for kids and non-anglers. Most people go for four nights and three days and that seems about the right equation to me. How do I know that? Because I'm strategizing about how to make it there next year.
---
Note: I've worked with Orvis before and have good friends there. But this trip was on me.